In every reaction & interaction between particles – the values are conserved by the exchanges of bosons. Energy (which includes mass) and momentum are shown to be conserved using relativistic equations. The three quantum numbers charged, baryon number and lepton number are conserved.
However strangeness is not always conserved…
Little history about strange particles:
Strange is a flavour of quarks – originally used to explain odd quarks.
The first strange particle found is the kaons. When cosmic rays hit protons (in a sheet of lead) – a neutral kaon is produced. As shown by the lack of track in a bubble chamber = No charge. The conservation of baryon numbers shows that the kaons are mesons. The neutral kaon also decays into pions: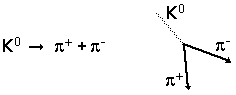 What is so strange about strangeness ?
The answer is the life time – how long it takes for a strange particle to decay.
Looking at particles of similar mass – there is a clear difference in the life time. Usually these high mass particles take 10-23 seconds – however a group of particles take a longer 10-10 . These particles were labelled 'strange' particles.
The lambda particle is a strange particle and the delta particle is a non-strange particle with a greater mass – yet the lambda particle has a higher life time.
In the lambda interaction above – the strangeness has not been conserved. This tells us which interaction has happened. Strange particles can only be formed by the strong force & strange particles can only decay by the weak force. The fact that no strange particle was produced – shows that lambda interaction was a weak interaction.
Strong force decays conserve strangeness where as weak interactions cause all particles to decay. The lambda particle is the lowest strange baryon – therefore there is no other strange baryon for the lambda particle to decay into. And the lambda particle cannot decay into individual quarks due to quark confinement. The lambda particle has to decay due to its high mass which causes instability. It needs to decay – and it can only decay into non strange particle. The only way that his decay can happen (with out having to conserve strangeness) is by weak decay. This explains the long life time as weak decay is very slow (due to the large masses of the W bosons ).
Strange particle was strange as it left many questions on why it took so long to decay….
Please leave your comments & opinions on the matter below.